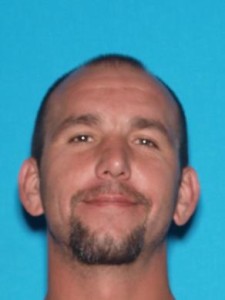 On Tuesday a Phelps County Jury found Jason Bruce, 37, of Rolla guilty of Rape in the First Degree, two counts of Sodomy in the First Degree, Burglary in the First Degree, and Felonious Restraint. Judge William E. Hickle presided over the two day trial which was prosecuted by Phelps County Prosecuting Attorney, Brendon Fox.
On June 7, 2014, Jason Bruce broke into a Rolla residence and took the resident hostage. He threatened her life if she made a noise before tying her up and raping her. After several hours, she was able to convince Bruce she wouldn't tell anyone so he left. Police later arrived to begin their investigation. Detective Derrick Dillon was the lead investigator and was assisted by Detective Adam Meyer. "Dillon and Meyer did a great job. They were thorough and got us all the evidence we needed," said Fox. The victim described the rape to Dillon, including how she was tied up by Bruce, which left ligature marks on her wrists and ankles.
Bruce initially told Meyer that he didn't know the victim, but eventually admitted he did. He said he had been to the victim's house a few days prior to the rape, but claimed he had not been to the victim's house that evening and said it was not possible for DNA to link him to the crimes. But Jessica York, an expert from the DNA Diagnostic Center in Fairfield, Ohio determined otherwise. Bruce's DNA was present on the victim and the victim's DNA was present in his boxer shorts, which proved he was there and had committed the crime.
Fox noted that the jury deliberated for about an hour before reaching their verdict. "In a case like this, with this many counts, I feel like the jury was convinced pretty quickly. I am so proud of the victim. She came to court and faced her rapist. She described the worst thing that had ever happened to her to a courtroom full of strangers and she did great," said Fox.
Fox also noted that Bruce has a prior rape conviction from Florida in 1998 with very similar facts where Bruce served 186.25 months in prison. "He had been out of prison for a little over a year before committing this new rape. Given the unique similarities between the cases, I have had zero doubt as to Mr. Bruce's guilt from the very beginning," said Fox. Fox also explained that Bruce could receive from 10 to 30 years, or life imprisonment for each rape and sodomy count. He could receive from 5 to 15 years for the burglary and up to 7 years for the felonious restraint.
The case is set for sentencing on December 10, 2015 at 9:00AM before Judge William Hickle.