Brendon Fox, the Phelps County Prosecuting Attorney announced that yesterday a Phelps County jury of eight women and four men deliberated just fifteen minutes before finding Ryan K. Guske guilty of one count of Driving While Revoked. Guske had previously been convicted of the same offense three times prior. The case was prosecuted by Assistant Prosecutor Nicholas P. Chlysta.
Guske, 41, of Rolla, Missouri was observed by a Deputy of the Phelps County Sheriff's Department operating a pickup truck bearing improper license plates in the early morning hours of April 20, 2014 on Hwy 63 and CR 5240. Upon the initiation of a traffic stop, Guske was identified as the driver, and when asked to provide his driver's license and proof of insurance, Guske admitted, "You know I don't have one." The Deputy knew Guske's license was revoked, based on two prior occasions where the Deputy had conducted a search of Guske's driving status confirming and notifying him that his driver's license was revoked.
"In Missouri driving is a privilege, not a right. Without a driver's license, Guske was driving on our streets without insurance coverage putting us all at risk. This repeat offender showed a blatant disregard for the law," said Chlysta following his first jury trial since rejoining the prosecutor's office in February.
Judge William Hickle has set the case for sentencing on August 23, 2015 at 1:00 p.m. Because of his repeated violations, Guske faces up to four years in prison.
On June 8, 2015, Jessica Edwards, 31, of Rolla, Missouri was sentenced to 14 years in the Department of Corrections. The case was prosecuted by Phelps County Senior Assistant John Garrabrant and Assistant Prosecutor Nicholas Chlysta.
In an earlier hearing the Defendant admitted to the Court that she had violated her existing probation for Possession of Methamphetamine, by committing the new law offense of Possession of a Controlled Substance with Intent to Distribute. At the revocation hearing, Judge William E. Hickle granted the State's Motion to Revoke and ordered the defendant to serve seven years in prison.
Subsequently, Jessica Edwards entered a plea of guilty to the class B felony of Possession of Heroin with the Intent to Distribute. Mr. Chlysta offered a factual basis for the Court describing items seized during the execution of a search warrant on Edwards' residence by the Missouri South Central Drug Task Force. Additionally, the results of a Missouri State Highway Patrol Criminal Laboratory report were presented showing that the defendant was in possession of forty two (42) separate plastic baggies packaged for distribution all containing Heroin. Edwards was sentenced to seven additional years in the Department of Corrections for that crime.
Reached for comment, Prosecuting Attorney Brendon Fox expressed his satisfaction with the result. "My office takes the distribution of Heroin in our community very seriously, and hopefully this type of lengthy sentence will make other criminals think twice before selling this poison to our friends and families."
Andrew James Fortner, 34, of Jefferson City, Missouri, was sentenced last week to four (4) years each on two counts of Forgery. On Friday, March 20, 2015, Senior Judge D. Gregory Warren, denied Andrew Fortner's request for probation and instead sentenced him to prison for fraudulently soliciting donations to the "Wounded Warrior Project" using fake literature and trademarked logos. The case was prosecuted by Assistant Prosecutors John Garrabrant and Nicholas Chlysta.
In 2013, Fortner was twice captured on surveillance footage at the St. James Country Mart actively soliciting and receiving donations for the Wounded Warrior Project. Representatives from Wounded Warriors confirmed that the charity does not utilize store front fundraising, nor have any donations ever been received by or from Fortner. The Wounded Warrior Project hopes that cases like this raise awareness of these types of scams. At the time of the incidents, Fortner was in the United States Army Reserves serving as a Sergeant. Subsequently, Fortner was discharged for Unsatisfied Participation, with a discharge status showing his demotion from a Sergeant to a Private Class E-1. A spokesperson for the United States Recruitment Office in Rolla, Missouri, commented, "Fortner is a perpetual, habitual liar and has done a disservice."
Phelps County Prosecutor Brendon Fox said, "I am satisfied with the result. Mr. Fortner took advantage of the generosity and kindness of the local community. I hope his actions do not discourage people from contributing to the Wounded Warriors in the future. This case hopefully will make people more aware of the importance of making sure their contributions are made through legitimate channels. I am proud of Andy Davis, a Retired Army Sergeant and Retired Detective with the Phelps County Sheriff's Department. I know he took a special interest in this case and bringing Fortner to justice"
Fox would remind you that if you see suspicious activities like Fortner's, to contact law enforcement. Together we can make a difference and stop charity fraud.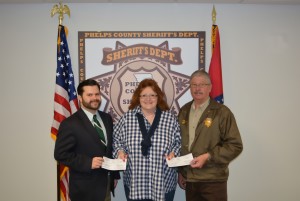 Phelps County Sheriff Richard Lisenbe and Phelps County Prosecutor Brendon Fox each donated $2,500.00 to the St. James High School's drug/alcohol awareness program. The school will use these funds to purchase various items to help educate and deter students from drug and alcohol use.
The administrator for the program, Maggie Roberts said without the assistance of both departments it would difficult for the St. James School to have this program. Mrs. Roberts accepts the checks, totaling $5,000.00.
David B. Hufstedler, 55, of Mountain Grove, Missouri, was found guilty last week of two counts of Statutory Sodomy in the First Degree. The trial was heard by Senior Judge D. Gregory Warren, who rendered the verdicts because Hufstedler had waived his right to a jury.
The State's evidence showed that in 2010 and 2011, Hufstedler had sexually abused a six year old child on two separate occasions. The case was prosecuted by Senior Assistant Prosecutor John Garrabrant. Phelps County Prosecutor Brendon Fox said, "As a father of young children, I'm very pleased with the guilty verdict. Sgt. Nakanishi with RPD did an excellent investigation and Mr. Garrabrant tried one heck of a case."
Mr. Hufstedler is set for sentencing on March 12, 2015 and faces from 10 to 30 years, or life imprisonment on each count. Additionally, given the victim's age, he will have to serve 85% of whatever sentence he receives.